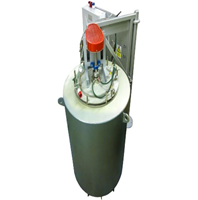 The biggest feature of Isonite treatment method is that thanks to low temperature treatment suitable for each type of material, there is little change in product size after treatment, short processing time (0.5 ~ 3 hours). . Treatment by dipping the product into a salt bath with a temperature of 580℃ helps to form a hardening permeable layer on the surface of the product, below is a diffusion layer. Isonite treatment helps prolong the service life of iron and steel materials.
Characteristic
Steel used: All steel metal such as carbon steel, alloy steel, cast steel, stainless steel, high alloy steel, calcined steel.
Increased durability.
Less dimensional change, ensure machining accuracy.
Good abrasion resistance.
Increased impact resistance.
Improved corrosion resistance.
Outstanding heat resistance.
The Isonite treatment layer is difficult to peel off.
Delivers consistently stable quality suitable for bulk production.
Surface hardness for each material
Material

Carbon steel

Chromium-molybdenum steel

Steel Crom- Niken

Nitrified Steel

Alloy steel

Anti-rust steel

Cast steel

Surface hardness

(HmV100)

400~500

600~800

600~700

900~1000

1000~1100

1000~1200

400~700