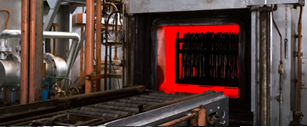 Carbon quenching treatment is a treatment method for iron and steel products into a furnace with an environment consisting of RX gas with the main component CO、N2、H2 supplemented with enriching gas, raising the temperature to about the upper and lower temperatures. 900℃, allow the carbon to penetrate the surface of the material, then proceed to harden the product.
Low carbon alloy steel material, low carbon steel with good machinability is mechanically processed to form the desired product shape, after quenching treatment, a hard layer will be formed on the surface of the product. carbonization.
Moreover, the core organization of the heat-treated product is still flexible, the overall product has good toughness to ensure the hardness to withstand impact, and the surface of the product has a high hardness, so that the product Good wear resistance, high working intensity. Different from conventional products, carbon absorbent treatment products have both opposite characteristics "toughness and hardness". This is the most common surface heat treatment method, widely applied to many types of machine parts such as motorcycle parts, auto parts. The biggest difference compared to nitriding treatment is that it has enhanced the tempering process in the treatment process.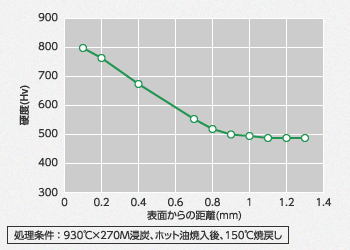 Our company has a chamber carbon permeation furnace. Reciprocating chamber furnace with diverse processing conditions from a short treatment time of about 10 minutes to a long treatment time of over 20 hours, moreover, it can deal with Carbon Nitrogen permeability, Carbon waterproofing treatment (no Carbon impregnating at the required location by using a waterproofing agent), Carbon + Subzero permeation treatment.
The graph below shows the sand hardness distribution of the carbon hardening strata. Surface hardness ensures high hardness HV800, overall hardening depth is about 0.9mm
Surface hardness and hardening depth can be adjusted based on heat treatment conditions to meet customer's wishes.
Compared with the nitriding treatment, the advantage of the carbon absorbent treatment is that it can form a deeper hardening layer, increasing the hardness – creating advantages for the product.