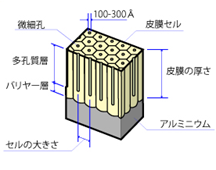 The aluminum surface is protected by an oxidation film with good corrosion resistance, but this film is very thin, equal to
The original status quo will not be able to withstand the impact of the usage environment. Therefore, it is necessary to create a surface protective film that meets the intended use. Anode oxidation treatment (Aluminum Anode) is a surface treatment method with the purpose of creating anti-corrosion properties, abrasion resistance, creating color layers, and increasing aesthetic decoration for aluminum.
Electroplating is a method of attaching metal to the cathode, creating a precipitate of metal ions in an electrolytic solution, but anode treatment is a method of attaching metal (aluminum) to the anode. In an electrolytic environment, aluminum will react with oxygen, causing the formation of an aluminum oxidation film (Alumin) on the metal surface.
From another perspective, Anode treatment is a treatment method to intentionally create a solid aluminum oxidation film on the natural aluminum surface; forms a complex material consisting of oxidized aluminum – a form of ceramic combined with metallic aluminum.
Because the aluminum film is hard, it is formed by many small holes, taking advantage of these small holes to create color, slipperiness, and water resistance for the product. (Small holes can be covered with the Fuko treatment).
Featured
High corrosion resistance
High wear resistance (High hardness)
Aesthetic decoration (Creating color layer, mirror-like coating, creating matte layer)
Insulating properties (Insulating film layer)