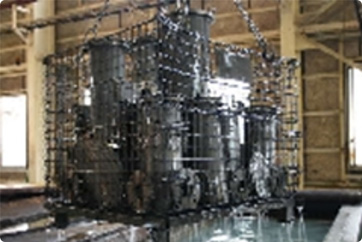 Treatment of zinc phosphate chemical film is a method to create a reaction between the treated products and the treatment chemicals, the phosphate salts in the treatment chemicals will hydrolyze to create a layer of insoluble phosphate salts on the surface of the treated product. . The application of this treatment method is very diverse such as creating a good paint base, anti-rust for iron and steel.
Characteristic
The same chemical treatment method, but compared with electroplating, the zinc phosphate treatment method can handle both large size and complex shaped products.
Processing temperature below 100℃ does not change the material's physical structure.
Change in product size and weight before and after processing is very little.